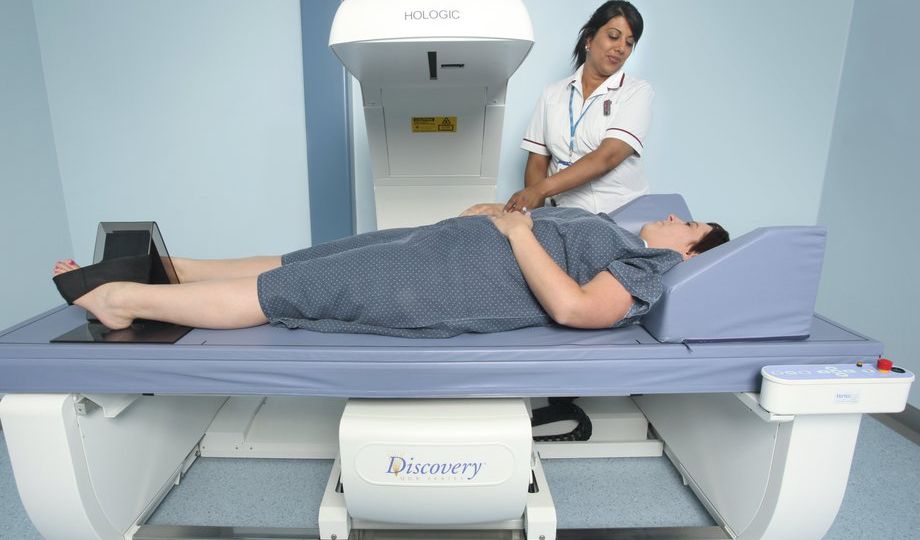 DEXA Scan
A DEXA scan is a special type of X-ray that measures bone mineral density (BMD). DEXA stands for "dual-energy X-ray absorptiometry". A DXA scan is also a bone density scan.
Patients must have to to change into light clothes and remove all jewelry during the examination. The technician guides you in taking the right position in front of the X-ray receiving plate. Depending upon the target body part, you may need to be asked to lie down or stand to facilitate the report.
Who needs to have this?
You may need to have a bone density scan if you're:
over 50 with a risk of developing osteoporosis
under 50 with other risk factors, such as smoking or a previous broken bone
The results from a bone density scan are usually used alongside a fracture risk assessment to assess your chances of osteoporosis and breaking a bone.
Osteoporosis can affect anyone at any age, although older postmenopausal women are particularly at risk.
This is because the level of estrogen declines after menopause, resulting in a decrease in bone density.
The denser your bones, the stronger and less likely they are to break (fracture). Before a broken bone, osteoporosis does not cause any symptoms.
How does this work?
DEXA (dual-energy X-ray absorptiometry) scans to measure the mineral content in certain bones, such as the hip, spine, and/or wrist. It works this way:
Patients need to lie on a special Dexa x-ray table to do a DEXA scan. The technologist will help position you correctly and use positioning devices such as foam blocks to help hold the desired position.
As the arm of the DEXA machine passes over the body, IT uses two different x-ray beams. The beams use very little radiation to keep the test safer and help to distinguish bone from other tissues.
The scanner translates the bone density measurement data into pictures and graphs. Bone is most easily seen in white. But, the fat and muscle tissue looks like shadows in the background on the technologist's computer monitor.
These results are then reviewed and interpreted by a radiologist or other physician trained in DEXA interpretation
Your healthcare provider is sent a copy of the written report to discuss with you and consider what treatment is most appropriate.
What else do healthcare providers use DEXA scans for?
Healthcare providers may also order a DEXA scan to:
Track bone health changes over time.
Monitor your response to treatment, such as an osteoporosis medication.
Evaluate body composition, such as how much fat and muscle mass your body has (and where).
How safe is this?
Bone density scans are very safe. They use a much lower level of radiation than standard X-rays, which means that the radiographer (the technical specialist carrying out the scan) can stay in the scanning room with you during the scan.
The amount of radiation used during a bone density scan is very low and less than 2 days' exposure to natural background radiation (NBR).
By comparison, a chest X-ray uses the equivalent of about 3 days' exposure to NBR, and a flight to North America is equivalent to approximately a week's exposure to NBR.
However, pregnant women can not do Bone density scans and X-rays. Because X-rays can damage an unborn child.
OUR FACILITY:
DEXA or BMD tests are done for all body parts including spine, shoulder blades, chest, hand, leg, soft tissue, and more.
Skilled technicians do all tests under the supervision of qualified doctors to provide you with accurate results.
 The time required for report delivery may vary according to tests.
Report generation status is notified to you through SMS alerts.
Report Delivery: Report can be printed from the website. You can obtain a hard copy from reception. Home delivery is also available.
For appointment and more contact
Fortune Healthcare
Phone: +880 1887045555
Address: 23/C, (3rd floor), Zigatola, Dhanmondi, Dhaka-1209