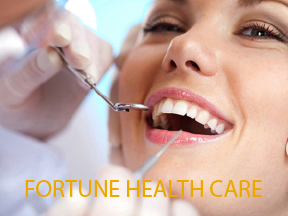 In Bangladesh, Fortune Healthcare Limited provides the best and most cost-effective dental treatments. Chat support is available, as well as experts with more than five years of experience.
Are you looking for Best Dentist or Dentist near me or Best Dental Clinic in Dhanmondi, Dhaka, Bangladesh? Yes, you are in the right place. Fortune dental care is one of the most hi-tech dental clinics in Dhaka, serving all of your dental needs , with special emphasis on` Dental Scanning, Laser Dentistry, Invisalign Clear Aligner, Teeth whitening, Painless Injection Facility, Dental Braces, Dental Implant and Scanning whole mouth with world's most advanced Intra-oral Caries & Plaque Scanner.
Fortune Healthcare offer a variety of dental services, including:
In dentistry, a crown refers to a dental cap, which is a type of dental treatment that completely encircles or caps a tooth or dental implant. When a significant cavity affects the health of a tooth, a crown may be required. Dental cement is used to adhere a crown to the tooth. They can be manufactured out of a variety of materials that are often fabricated by indirect processes. Crowns are used to strengthen or improve the appearance of teeth, as well as to prevent degeneration. While the technique and materials are good to dental health, they can be costly.
Tooth extraction is a reasonably rapid outpatient surgery that can be done under local, general,    intravenous, or a combination of anesthetic by a dentist or oral surgeon. Extraction of visible teeth is a simple procedure. A more extensive process is required for teeth that are fractured, below the  surface, or impacted.
One of the most common applications for fillings is to "fill" a cavity that your dentist has removed      because to decay. Fillings are also used to restore teeth that have been worn down due to usage, such as  those that have been cracked or shattered (such as from nail-biting or tooth grinding).
People of all ages prefer flexible dentures over traditional dentures because they are composed of softer, more pleasant materials. However, while deciding which sort of dentures will best suit you, your wants, and requirements, it is always preferable to confer with your dentist or denture specialist. It difficult to lose a tooth, but it doesn't mean you have to give up your smile. There are a multitude of denture choices available to suit a wide range of persons, teeth, and mouth types.
Orthodontic treatment involves straightening or repositioning teeth in order to improve their appearance  and function. By dispersing the biting pressure across all of your teeth, it can also help to maintain the  long-term health of your teeth, gums, and jaw joints.
If a child develops a cavity in a baby tooth, it's likely that bacteria in the mouth are eating away at the tooth's structure, creating decay. The dentist will remove the affected region using a tiny drill to stop the rotting process. After that, the hole will be filled using filler material.
RCT (Root Canal Treatment), also known as Endodontic Treatment, is a technique performed when tooth decay reaches the pulp (innermost layer of the tooth) and causes inflammation. It's critical to keep the injured tooth from being extracted. An Endodontist, often known as a Root Canal Specialist, performs this surgery.
When your dentist scales your teeth, he or she eliminates any plaque and tartar (hardened plaque) above and below the gum line, making sure to clean all the way down to the bottom of the pocket. Your dentist will then undertake root planning, which involves smoothing out the roots of your teeth to aid in the reattachment of your gums to your teeth.
A surgical tooth extraction is a process for extracting a tooth that includes additional surgical measures  not required during conventional extractions. The dentist makes an incision in a piece of the gum tissue  during the surgical extraction.
Fortune dental care
Fortune Dental Care is the best & leading dental treatment provider in Dhanmondi, Dhaka, Bangladesh, with a specialized, Dental implant, Endodontic, Pediatric operative, Prosthodontic, oral surgery, and Orthodontic Center. From 2020 to till now, Fortune Dental care is a center of excellence and house of trust in the section of dental practice in Bangladesh. Our philosophy is simple. We provide excellence in dental care, with a focus on patient comfort, satisfaction, and dental health, in line with our company's core value, 'Creating Happy Smiles'. Here at Dental Aspects, YOU are the number one priority.
We have encompassed the latest tools and technology to give you the best possible treatment in a modern, friendly environment. Most of our new patients join our practice through the recommendation of our existing happy and extremely satisfied patients. This speaks volumes for the service we provide. We pride ourselves on having a friendly, helpful, and dedicated team We are all trained to the highest standards and are familiar with all the latest dental techniques and procedures. We will provide the best care possible and look after you through every stage of your Dhanmondi Dental center journey. Nervous patients handled with care. Our team of Dental Professionals selected from among the best after a stringent quality check for their clinical skills and expertise. Our mission is to provide all our patients excellence in Dental Care with the highest ethical standards in a friendly and professional environment.
Fortune Dental Care is proud to announce our new state-of-the-art facility! Our new clinic is designed and constructed to the highest industry standards with the latest technology and progressive design; all to make your visit safe, comfortable, and affordable.
Show Less…
Fortune Healthcare have modern technology and skilled dentist for your best  dental treatment. Come visit us today get up to 50% off on dental service in Fortune Healthcare. Also, Free Healthcare service on Every Tuesday, no visiting Fee needed.
Visit our diagnostic center website and Address
Fortune Healthcare Ltd.
Phone: +880 1887045555
Address: 23/C, Zigatola, 1209, Bangladesh
Opening Hours: Everyday: 8 A.M. – 11 P.M.